Snowcone Machine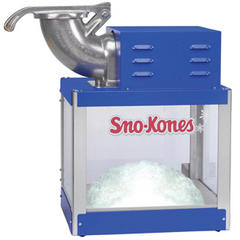 Description
75 cups and 4 flavorings provided. Please let us know in the notes upon checkout which flavors you would like us to bring. Your choices are: Cherry Lemon Lime Blueberry Grape Green Apple Bana Blue Raspberry If you have your heart set on a special flavor not listed here let us know and with enough warning we can probably get it for you!!
How much ice do you need?
Using 40 pounds of cube ice makes approximately 120 six (6) ounce snow cone cups. Keep in mind that ice melts and yields will vary depending on the temperature.